This has become one of my favorite mid-meal snacks. The kind that gives you the boost needed to make it through the morning or afternoon blahs! They also can satisfy that little sweet craving.
They are extremely versatile from vanilla to chocolate; sweetened or not and add in what you'd like.
So easy to make you will want to whip up a batch right after reading this…
In a medium stainless or glass bowl mix all together:
1 Cup of ground flax seed (I use either golden or brown)
1 Cup peanut butter (any kind you like but my preference is the natural)
2 scoops of your choice of protein powder (love my Zeal protein powder which comes in Vanilla or Chocolate)
2 oz of coconut oil (optional)
1/4 cup of honey (or you could use molasses if you like the flavor)
2 cups of rolled oats
1/2 cup of dark chocolate chips (you can use minis if you like and any flavor you like)
Optional add ins: finely chopped nuts, 2 oz of cocoa powder (for a more chocolaty flavor), dried fruits (chopped fine), flaked coconut. Really the skies the limit!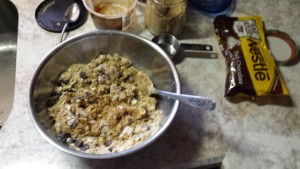 Once you have these mixed up well–and remember that your honey, coconut oil even peanut butter will mix much easier if warmed–grab your trusty marvelous #4 scoop! This recipe will make up approximately 18 nice sized balls. If you find your mixture is a bit on the dry side, try drizzling some honey or melted coconut oil until the consistency is moldable instead of crumbly. Again, warm ingredients will work best.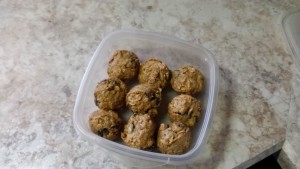 Mine are placed in a square storage container and refrigerated to thoroughly chill and store. Throw in the freezer to keep longer or out of those fingers that just want another!
And do enjoy!