I have always enjoyed hearty, grainy breads and this one is just delightful with a slab of butter and your favorite jam, honey or your favorite nut butter! You will enjoy with a morning beverage.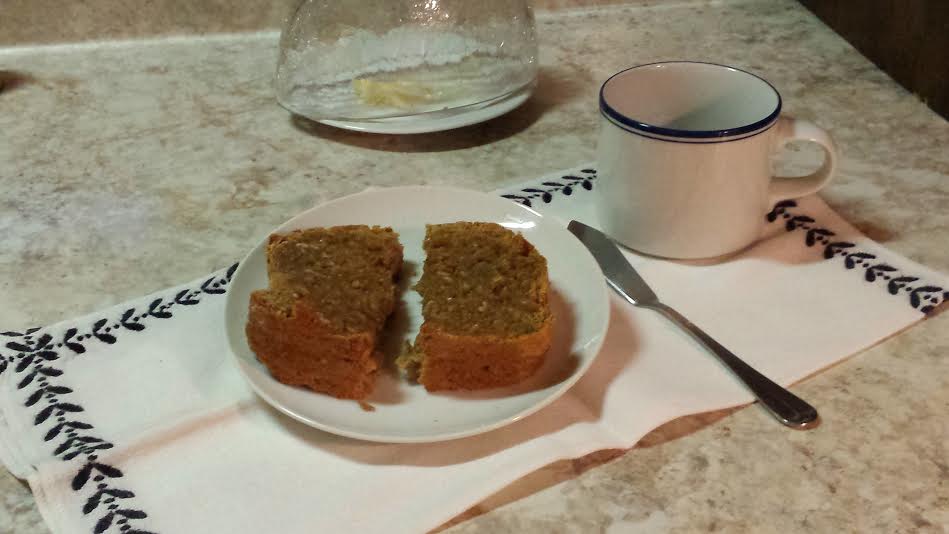 I found a very nice organic six-grain flour at our local 'Country Pantry' that is comprised of Wheat, Rye, Barley, Corn, Millet and Buckwheat. It is a lovely fine grind as well.

I love to use my KitchenAid electric mixer only to mix my bread dough. Maybe yours is handily accessible and even on a portable stand. Mine is not, packed away in its box waiting to be used!
First Step…
4 Cups Warm Water (no more than 105 degrees)
2 Cups Almond Milk (I use plain unsweetened but any milk will do)
2 Tbsp Yeast (2 packages)
1/2 – 3/4 Molasses (you could use honey if you don't care for the flavor molasses gives)
8 Cups Flour
Add warm water and yeast then gently mix  for several minutes. (I use my wire whip attachment for this step.) Let rest for about 5 minutes and then add your almond milk and blend well.
Here is where you will add your sweetener which the yeast loves as it begins to make it grow! You can now add in your 8 cups of flour and whip until it is well mixed and the consistency of a thick batter.
You will then let this rise for an hour.

Second Step…
2 Tbsp Salt
3/4 C Butter or Coconut Oil (I mixed mine)
5 Cups Rolled Oats
5 Cups flour (you may need a little less or more and flour for kneading)
Add the oatmeal and then sprinkle the salt around on the top and very thoroughly mix the oats into the batter.
Begin to add your flour until the mixture is of a good kneading consistency. Not too sticky. You can now empty your bowl content onto a floured counter or board and start kneading in the rest of flour. The consistency will be somewhat stiff! Remember, kneading is good therapy!
Oil your bowl and add the ball of dough swiping the dough through the oil and flipping it over so the top is well oiled. Cover the bowl of dough with a light, dampened cloth and let rise for about an hour.
Step Three…
Punch down the dough once again and let rise another 40 minutes.
It is now time to shape the dough into 4 loaves. With a large knife you can slice the dough in half and then in half again.
Grab one of the 1/4's and pat it out on the floured board or counter to press out the air bubbles. Then fold over the dough pressing it as you go and fold the other side over and press together. Fold your ends down and under and place in your lightly greased bread pan.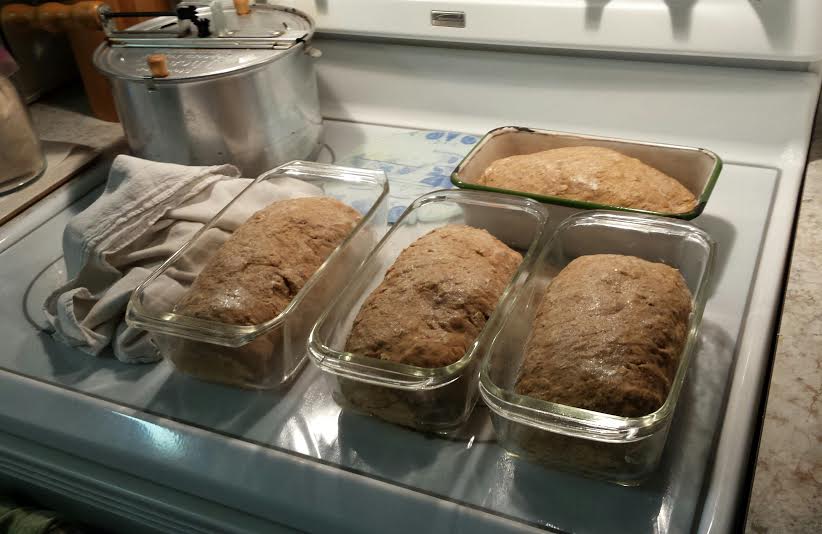 Preheat your oven to 350 degrees. While oven is heating you can let your loaves rise for about 25 minutes. Pop in the oven (not too close together) and bake approximately 50 minutes. The loaves will be golden brown and when tapped will sound sort of hollow.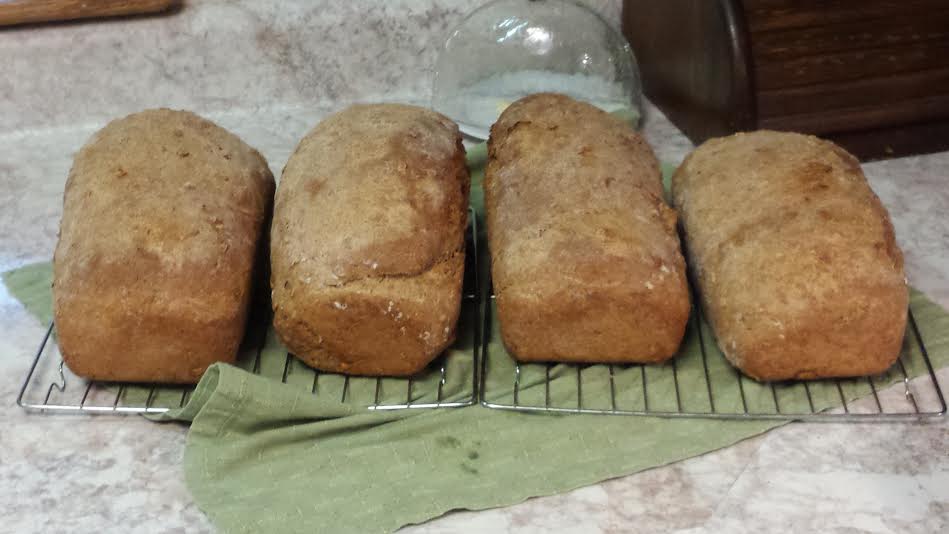 Tip your loaves out on racks to cool Completely. (Remember, if you put them in bags to store before they are cool they will sweat and make too much moisture.) But be sure that you don't put them away until you have yourself a nice warm slice with some butter and honey drizzled on top with a cup of tea or coffee!