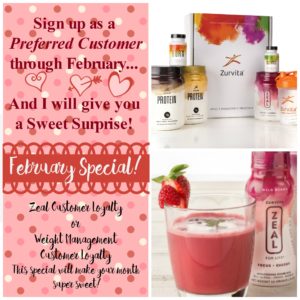 Just in time for the month of February!
Here's a sweet deal for you who may be wondering just what this Zeal Wellness is really all about! Through the month of February, I would love to help you get started. All you have to do is make a 30-90 day commitment by becoming a Preferred Customer.  Order the Zeal Customer Loyalty Pak or Zurvita Transformation System and save $. It doesn't get any sweeter than that!
So now what would stop you from helping your body be happy?
Time to be ZEALOUS about good health! You gotta love that!
Contact me here.
#ZealforLife #Goodnutritioncounts #doingwhatworks