"I am the vine; you are the branches. Whoever abides in me and I in him, he it is that bears much fruit, for apart from me you can do nothing." John 15:5 (ESV)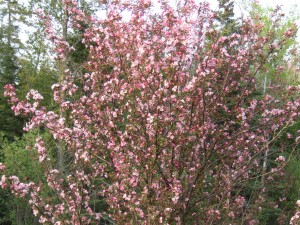 Did you know that you can have a personal relationship with the living, loving God of the Universe? Friend, I'm not talking about "religion" here. I am talking about a God who is so interested in you–well, in fact, He is crazy about you! And He waits patiently to hear from you, keeping an eye on you and an extended arm out to you through His Son, Jesus Christ. He longs to fellowship with you; in fact that's why He created you. That's the God I am talking about. He is ever present, never failing, all knowing and yet still in love with you.
So you ask, "How can I have that kind of a relationship with God?" It is so simple that even a little child can have a relationship with Him. You may be familiar with the phrase "childlike faith". It is self-explanitory, and that is all that's needed to develop the relationship that begins the moment that you receive the greatest gift of all.
It kind of starts here, when sin entered into the picture in the 'Garden of Eden,' man (Adam & Eve) could no longer fellowship with God because they made a choice to sin by eating the fruit of the tree of the knowledge of good and evil, man's first rebellious act. This caused a huge gap between man and his Creator. (That's a very abbreviated edition.)
Well, God devised a plan that would once again bridge that gap between humanity and Himself by sending His Son Jesus, Who was God in the flesh. John 1:14 says, "And the Word became flesh and dwelt among us, and we have seen His glory, glory as of the only Son from the Father, full of grace and truth." He was God in the flesh, Who came to bring us life everlasting with Himself. You probably know the story of the life of Jesus (most of us have heard it somewhere throughout our lifetime), God in the flesh Who "For our sake He made Him to be sin Who knew no sin, so that in Him we might become the righteousness of God." 2 Corinthians 5:21. We celebrate the resurrection every year because it was the greatest proof that God is Who He says He is and does what He says He is going to do. On that cruel cross, Jesus, God's Son, took on every sin that ever was committed and ever will be committed and bore them on His body when He hung on the cross, to reconcile us to the Father. John 14:6 "Jesus told him, "I am the way, the truth, and the life. No one can come to the Father except through Me."" But the best news is that on the third day, after being crucified, Jesus dying while hanging on the cross, then being buried, rose on the third day! How amazing is that and it was done just so that you could be reinstated with Father God! Now is that love or what!
So, here is where I extend the invitation to you. Would you like to know the Father? If your answer is yes, here is a simple prayer that you can pray–that God will hear–to make a lifelong connection to the Father.
Lord, I come to You with my hands and heart wide open to You. I admit that I am in need of a savior and that I have not walked according to Your word. Father, forgive my sins and show me the way to You through Jesus Christ, Who died for me just so I could have fellowship with You. Thank you that I can now live forever in Your presence because through Jesus' shed blood, You have cleansed me from all my unrighteousness (sin). Now show me how to live for You and I ask the Holy Spirit to be my teacher, comforter and friend as we begin this new life in Christ together. In Jesus' name, Amen!
Congratulations, child of God! You have begun the journey of a lifetime–well, even forever. I can guarantee that you will never regret your decision to surrender your heart to Jesus. If you need reinforcement and encouragement, drop me a line or an email and I will do my best to walk with you shoulder to shoulder as a new creation in Christ! 2 Corinthians 5:17 "What this means is that those who become Christians become new persons. They are not the same anymore, for the old life is gone. A new life has begun!"
You can let me know if you don't have a Bible, as this will be your guide. It is your personalized love letter from Abba Father and you will need one to help you get to know Him! Because He desires to spend time with you daily.
Let me pray for you right now…
Lord, take this fresh commitment and protect this dear one from the enemy of their soul, satan, who would love to steal their new found faith in You. Help them to lean upon Your Holy Spirit so they may gain much wisdom in this new walk and learn more and more about who You are and how much You love them. Guide and direct their pathway and may their life grow to glorify You, in Jesus' name, Amen.