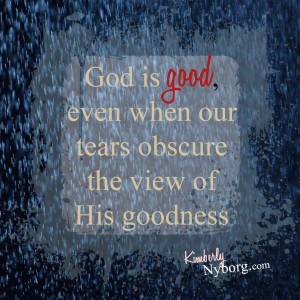 There are times (in the fullness of my life) that I feel very alone.  Probably more often when I am a bit out of sorts for whatever reason.  It is then that I let my "feelings" and "emotions" rule my responses to daily life.  That is when I want God with skin.  But, if God is ever present or omnipresent, really, He is with me always and everywhere I am!  But it doesn't feel like it when I am in those moods.
When God supernaturally revealed Himself to me as my Abba Father, He also let me experience His presence in such a real way that I truly felt as though I was a little girl sitting on His lap.
"I remember one morning when I felt so lonely and longed for an earthly father to receive comfort from. You see, I am very alone most of the time. At this time in my life, my husband and I are at different places spiritually. We aren't always on the same page when it comes to the Lord. I tend to spiritualize things a bit more and my man is down to earth and very basic in his faith. Sometimes that really makes me feel lonely.

One morning after my husband went off to work (he is the early bird and leaves the house like clockwork every work morning at 4:25 and sometimes I sneak back to bed but other times I can have good times with the Lord when I stay up. Although it was an unusual thing to do, I heard my 'Abba' Father beckon me to come and crawl up on His lap and bury my head in His shoulder. I am just about sure that I looked around to make sure that no one could see me and it was only the animals home with me anyway. So I did what the Lord invited me to do! I covered myself with a quilt and envisioned being in my daddy's lap and I cried out to Him pouring my heart out to Him. I told Him how very lonely and sad I felt.

There are times when we do not get the emotional response we need from our parents or spouse and that can pull us into down time—maybe even throwing us out of whack emotionally. But god, You are there and You hear my cries and my pain, You don't become weary of hearing me whine and carry on. You listen and comfort me, You, the God of Jacob, hear my prayers. This is something so amazing. Had anyone been able to see me that morning and heard my weeping, they would have wondered if there was something drastically wrong. But, my Daddy, My Abba Father, held me close and was very attentive to my sorrows and provided me with comfort and peace. To my spirit He assured me of His love and acceptance of me—which is so what I needed at that moment.

You know, it could have been PMS or feeling sorry for myself for whatever reason. But God, my God, was there for me when no else was for my husband surely would have thought I lost my mind. My God knows the heart of His girl and how she just gets lonely and sad sometimes."
(from Worshiping in the Psalms, Psalm 84)

I know, I didn't get a physical arm wrapped around me but I was supernaturally embrace and because of that I have come to understand that my God is safe and trustworthy and never out to harm His child.  He is also my comforter in Christ, through the Holy Spirit.   You may also like this post Being God With Skin On
Thank you Father God, for your gift of love and when I need You most, You are there, waiting to embrace this lonely child of Yours.  There to fill her with Your presence and show her that she is loved and highly treasured!