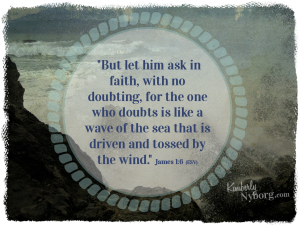 How come? Why can't it be easy? I know most of us know the quip that says "faith is like a muscle that has to be exercised to become strong." Okay, that makes sense! However when my world is falling apart around me I feel as if my faith is really like being 'weak in the knees'…a bit on the whimpy side.
James, that leader of the church in Jerusalem and former disbeliever in Jesus as the Son of God, who may have even been his brother, sure had a turn around and then wrote this straight-forward book in the New Testament, James! I only bring this up because his words of truth have a bit of a bite to them. For instance let's look at chapter 1:5-8 ESV
" If any of you lacks wisdom, let him ask God, who gives generously to all without reproach, and it will be given him. But let him ask in faith, with no doubting, for the one who doubts is like a wave of the sea that is driven and tossed by the wind. For that person must not suppose that he will receive anything from the Lord; he is a double-minded man, unstable in all his ways."
Especially verse 6 which tells us that if we are going to ask we need to ask in faith and without doubting which you too may have found happens when you ask of God. That thread of doubt begins to weave itself in and out of your thoughts. So…how can I turn that around? I want to utilize what God has given me in the most difficult, and doubtful situations!
If my circumstance is a difficult husband (and I have had one!) How do I pray and believe that we can get through when butting heads? It seems so foolish to think just pray and watch God change him, however when I prayed, "God, I can't change him but I know You can and in the mean time please work on my heart." I will began to see things loosen up. We must be determined to see the situation with God's eyes, He always wants what is best for us and if we don't get in the way of what it is that He is doing, guaranteed, things will change.
I know, like me, you probably want it NOW! Hold on with all your might to the truth above so that when you pray, those subtle and unsubtle threads of doubt will be cut off. Then you can relinquishing them, continuing to pray it through, until you see things begin to change. And, don't stop…continue to thank God for the 'impossible' as you believe for the impossible!
Lord, I am blessed, blessed that you have my best interest always in mind. Help me to get out of the way and teach me to patiently wait for Your answers to my impossibilities, in Jesus Name! 
Happy to be visiting here where you can find loads of encouraging words at Grace & Truth!