The world certainly is in an uproar. Doesn't that make you a bit unsettled? These days there isn't much peace and contentment going on. Watching nightly news only stirs us up and freaks us out! So how can we survive when every thing around us is literally shaking?
Over the past two weeks on the news there have been reports of earthquakes, volcanic activity and of course war. Countries at war, and angry people everywhere. The Bible says it as "wars and rumors of wars." And indeed we see the Word fulfilling itself!
So friend, how are you doing with it all? You may be so consumed in your home life raising kiddos and working that well, you don't even have time to look around at what's happening in the grand scheme of worldly news. It may be several days later that you have the time to even grab the newspaper and see what's going on. And the list just keeps piling high doesn't it! We are a busy people today!
However, when you do get a glimpse of all that is taking place it sure can be a bit disconcerting can't it! But I have a place of refuge where if you will take a moment to just rest and read, you will see that God is still in our midst. He hasn't taken His eyes off of us, no He cares for you and me and this rattled world we are living in.

I won't talk prophesy at this point but yes, all this turmoil is foretold in God's Word. What I will share are some verses from a Psalm that helps me to know that God is still in control, still on the throne and can still be trusted.
Have you read Psalm 46 lately? It's not too lengthy, and seriously, it helps to slow down my pulse rate!
"God is our refuge and strength, A very present help in trouble."
How does this resonate with you? I remember the night of 9-11 very vividly. When I went to bed that night I distinctly remember feeling fearful. My husband wrapped me in his arms and comforted me the best he could and I cried and thought of how everything had suddenly changed. How nothing will ever again be as it was. At that moment he was my refuge, holding me and allowing me to rest in him as he said it would be alright. But seriously here, as much as we love our husbands and count on them for our comfort…there is a greater One who even outweighs our men. That may be sort of hard to visualize cause after all we usually want God with skin on!
God is greater and His refuge is sure. It is here that you can find the strength to lift your head out of your busyness and breathe at a normal pace without trying to escape your fears.
Click To Tweet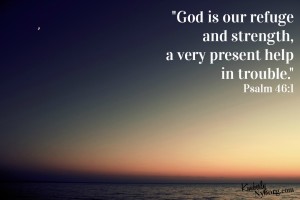 Because the Lord is with us everywhere and always, He is our help in times of trouble. And I don't mean maybe! I don't know about you but that is extremely reassuring!
The next couple of verses read:
"Therefore we will not fear, though the earth should change
And though the mountains slip into the heart of the sea;

Though its waters roar and foam,
Though the mountains quake at its swelling pride. Selah"
Love that word Selah! From Bible Study Planet: The word "Selah" occurs seventy-three times in the Psalms, and is found also in Hab 3:3,9,13. The exact meaning of the word is unknown, but it's believed by many scholars to be a musical term that means to pause, or reflect.
God seems to think that it is profitable for us to ponder theses few verses. And frankly, for me He is saying to my heart, "Put your trust in Me because I have all these things in My big hands." We are completely covered by Him.
When our busyness keeps us from looking at our world, is that really okay? Then we don't have to deal with how it affects us and our family, right? We don't want to think about those things cause they aren't safe for us! I get that. But seriously friend, we need to see God in our midst without minimizing the fact that He is Lord over all of it! The good, the bad and the ugly!
We have the Lord on our side when we have and know His son Jesus! And I often say, how do people get through the really hard stuff without Him? I am thankful that I know Jesus! Please visit here if you want to know more about how this happens!
So let me post the last couple verses trusting you to read the Psalm in its entirety!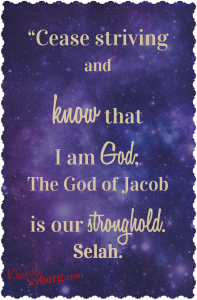 Oh Momma, take some time to stop, read, and reflect on the truth and promises of our God! He tells us to stop striving and He also reminds us that He is ever with us and always listening and even guiding his own with His eye!
Don't be overwhelmed with the world and your circumstances, be overwhelmed with God's love and care for you!
Click To Tweet