It was such a dreary morning as I got into my car and began my journey. The windshield was getting spattered with intermittent light rain so that I had to keep my wipers going, but not consistently. Traveling on days like this are not my favorite especially with the fog making for limited visibility! Lord knows what could jump out in front of me since it would be an hour or so before daybreak!
Where was I going? It all seems so fresh and new but I have to admit that I am really feeling hesitant about the next part of this journey. It is those stinkin' uncertainties. After all, I like to know what I'm getting myself into. Guess I'm sort of a black and white kind of person these days. And it is really kind of scary to imagine the what ifs that I could run into. What if this venture doesn't pan out? What if I am making a 'big' mistake in making this move? What will he say if I fail at my attempt to make things better? Will he understand or be angry with me?

Oh, I dislike those thoughts that are rolling around in my head. Okay, I just remember that when I get like this I need to go back to some of my favorites…
"He will keep him in perfect peace, whose mind is stayed on Him, because he trusts in You." Isaiah 26:3 (NKJ)
There it is, perfect peace…why? It's those last four words, "he trusts in You." That takes Faith! Oh man, this faith thing certainly is a challenge!
And then there are these two verses I have claimed as my 'mantra' for a long time now…
"Do not be anxious about anything, but in everything by prayer and supplication with thanksgiving, let your requests be made know to God. And the peace of God, which surpasses all understanding, will guard your hearts and your minds in Christ Jesus." Philippians 4:6,7 (ESV)
Again, peace of God that will guard my heart and mind in Christ Jesus! Oh yes, I have had loads of opportunity to put those verses to the test and you know, God has never failed me on His word! Stop and ponder this...how could He renege on His own word? It just doesn't happen or He isn't the God he says he is! Click To Tweet
So, why does this new adventure seem so scary? I need to take some time and remember the many times that God has seen me through. Because He has upheld me in the most difficult of circumstances!
If I can't trust God by now then seriously, what's the point of continuing? I have made up my mind that I want to finish my journey here on this globe strong. I want to be the woman that God has designed me to be. I want all He has for me as I finish and Lord, let me finish strong! My word this year is "Faith", but I added the adjective Big to my word because that was the kind of faith I want to learn this year. Faith that moves mountains, faith that believes in big changes, faith that knows the prodigals will return home and faith that believes that the lost will be saved!
So, here goes! I am preparing for the next leg of the journey, and it just might include (shhh…) retirement. But I don't want it to look like what I see some slip into. That's why it will be one baby step after another. And you know, I am actually excited to begin the trek.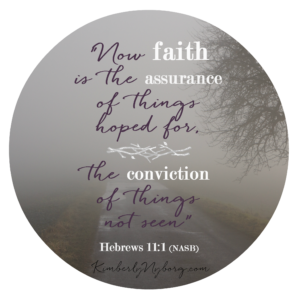 How does it go? How do you prepare? How do you plan? Well, I am adding this verse to my repertoire…
"Now faith is the substance of things hoped for, the evidence of things not seen." Hebrews 11:1
I know it well, I have used it times before and I now have three Hebrews 11:1 graphics for my blog posts!!! But with this faith thing, this BIG faith thing, something tells me I am going to need to remind myself over and over as I begin to live it out purposefully!

You may not think that you have a faith issue, and if you don't I want to know how you do it! But for those of us who have lost our 'child-like' faith somewhere along the road, let me challenge you to examine how you respond to those rough bumps we encounter. You may be like I am thinking I can't do this thing unless I have all my 'ducks in a row'!
So what are your faith inhibitors?
Fear?
Uncertainty?
Control issues?
Gotta have your 'ducks in a row'?
These will certainly rob you of unadulterated FAITH, the big faith I'm talking about. The faith I want and honestly struggle to maintain!
So maybe you would like to at least join me from the standpoint of growing in your faith? If you do then you might not have such a 'faith deficit' when you get to that place where I am hoping to be someday!
Step one has to be memorizing those three verses if you haven't already…let's do it so it can do the work inside of us that only God can do when we implant His word in our heart! And then just like I did on my North Dakota trip, put His word to the test! I have wondered if God doesn't delight in showing us a glimpse of His character during our rough times? Click To Tweet
We will check back on the progress here…I promise. This is a journey that is not too soon to end