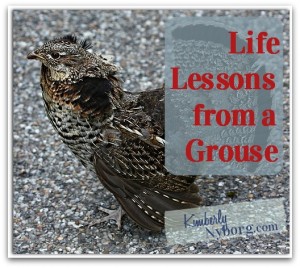 I can't believe it, another attack…not from the devil or a person but the momma grouse!  This is the second time that we have gotten too close to the brood.  As Elsa (my pup) and I were climbing up to get on the old railroad grade (now a designated snowmobile trail), Elsa always first, startled a young brood of grouse gobbling gravel.  As I stepped up around the bushes on each side of the path that hide clear visibility, here she came, momma bird all fluffed up to look as big as could be and running right toward Elsa!  As I stepped up she made a quick dart into the brush and disappeared as the little ones followed scurrying away!
You have heard the saying "To be forewarned is to be forearmed" haven't you?  Well I thought about the spiritual implications in light of our morning incident.  Momma grouse is always willing to lay down her life for those little ones and there she was, enguard as she heard us tromping up the incline ready to give us what for!  She was ready and at attention watching over her brood and man, if my Elsa hadn't been on a leash, I would hate to see what could have happened–thankfully it didn't.
So, in this world the Bible tells us we will have trouble, John 16:33.  Do I like that statement? Of course not, life shouldn't be so troublesome!  However it is a warning for us to heed, a warning God has given to His children.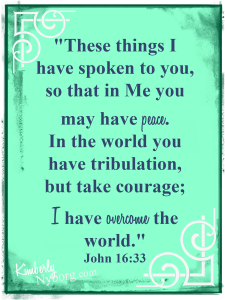 "I have said these things to you, that in me you may have peace. In the world you will have tribulation. But take heart, I have overcome the world."
But even in the midst of the fiery trials of life, Jesus says that we can still have peace, how does that work? Some of my favorite verses in John come from chapter 15 that mention the vine and the branch and the work of the "Vinedresser", (our Father.)  The forearming that we can anticipate is not only found by remaining in tact to the Vine (Jesus, through whom we get our marching orders and life truths through the Holy Spirit) but also we head to Ephesians 6 and we learn about daily putting on our armour.

"Therefore take up the whole armor of God, that you may be able to withstand in the evil day, and having done all, to stand firm. Stand therefore, having fastened on the belt of truth, and having put on the breastplate of righteousness, and as shoes for your feet, having put on the readiness given by the gospel of peace. In all circumstances take up the shield of faith, with which you can extinguish all the flaming darts of the evil one; and take the helmet of salvation, and the sword of the Spirit, which is the Word of God, praying at all times in the Spirit, with all prayer and supplication. To that end keep alert with all perseverance, making supplication for all the saints."

Ephesians 6:13-18 (ESV)
There really is no excuse to get caught unprepared for each new day with its surprises good and or not so!
Father, I can't believe that sometimes I forget I don't have to go around bared to the enemy of my soul without a covering. Lord, help me to get properly dressed each day so that I won't be subject to defeat–whether minor skirmishes or a total wipeout.  In You, I have everything necessary to walk in victory for Your name and Your glory, Amen.