Recently I have found myself bugged. Someone has acted inappropriately and it really began to fester and annoy me. Frankly, I have wanted to get opinions on the situation and build my case as to why this behavior is inconsiderate and wrong. Back and forth I go and finding it a real struggle to let go of this situation that I have kept it to myself. Because I really do want to do the right thing instead of what I am tempted to do, that is to point out the flaws of another.
I have been praying about this tendency in myself to react this way and psychoanalyzing why I get so bugged sometimes. I know it is wrong to point to another's character defect, after all would I want that done to me? I know it is wrong to gossip about that scenario that took place and riled me up, because I don't want that to happen to me. However, what I want to take place in me is the appropriate response to another's inconsideration to others.
I remember memorizing this scripture long ago when I first became a Christian and it is indeed one of those that we need to remember because temptation comes to all of us…
 "No temptation has overtaken you that is not common to man. God is faithful, and he will not let you be tempted beyond your ability, but with the temptation he will also provide the way of escape, that you may be able to endure it."

~ 1 Corinthians 10:13 ESV
Although I am tempted to…I don't have to go there! And I am leaning on the scripture above to remind me. God knows why I am bugged but I can leave it in His hands and not transfer it to the hearts of others so that they can form an unbecoming opinion of that one, because that is slander! So the scripture covers all situations that come our way and It also gives us the avenue of escape to depart from our wrong thinking and reminding us that we do not have to respond to our natural tendencies or in the flesh as Paul reminds us.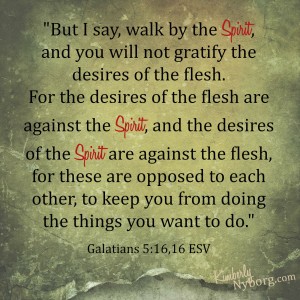 So friends, no excuses, Kimberly, no excuses! Today I choose not to give in when I am feeling pressed by temptation, but will choose to surrender my natural desires to the Lord and escape before harm can come to me and or the one I am bugged with. No cranky responses, gossipy tongue and judgmental thinking! It just has to go! God's Word is again the reminder that I have no excuses, but will make the choice to have the right response…"I can do all things through Christ who strengthens me"–and you can too!