Do you have days when you just don't feel like you are loved?
There used to be days when it was hard to imagine that I was really loved. Because of the many messes in my early years and the fallout, I struggled to believe that I was worthy of being loved.
Have you ever questioned how you could be worthy of love?
I want you to know that God has a heart for you!  When you are in Christ you are the apple of His eye!
"Praise the LORD! Sing to the LORD a new song, And His praise in the congregation of the godly ones.  
Let Israel be glad in his Maker; Let the sons of Zion rejoice in their King.  
Let them praise His name with dancing; Let them sing praises to Him with timbrel and lyre.  
For the LORD takes pleasure in His people; He will beautify the afflicted ones with salvation."
These are the first four verses of Psalm 149 (NASB) and I want you to especially pay attention to the fourth verse.  In Christ we can count on the fact that God takes pleasure in us!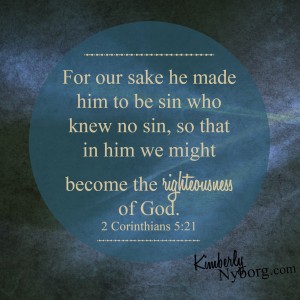 Do you suffer with anything?  Could be illness, loneliness, abandonment, grief, depression, confusion?  Please, take heart. The above Word says that God will beautify you, with salvation.  Look what the Lord has done!  By keeping your eye on the prize, and your gaze on Christ, God is glorifying Himself in you!  You are precious in His sight! But, you must believe it.  Say this with me, "I am the righteousness of Christ."  Then keep saying it again and again until you truly begin to 'walk' in that reality!
The ESV translates verse four like this:
"For the LORD takes pleasure in his people; he adorns the humble with salvation."
Maybe you are like me in thinking that God only wants perfect people. Oh friend that just ain't so because there aren't any perfect people, nope, we are all in process!
This process we are in could include our issues or afflictions that God uses to keep us humble and wholly dependent upon Him.  The hardest thing we can do is to embrace where God has us today! In so doing we will be ready for a promise to come, tomorrow.

I want to give you some truth to counter the doubts you feel when you are in a low spot, when you are not feeling worthy…
Worthy of being loved…I have declared you forgiven of all your sins…Romans 5:1
…I see you as a holy one, a saint…Ephesians 1:1
…your life is complete in Christ…Colossians 2:10
I am significant…I empower you by My Spirit to be my witness…Acts 1:8
…You are a branch of the true vine, infused with life…John 15:1,5
…I designed and crafted you to do good works…Ephesians 2:10
I am totally secure…I have freed you forever from condemnation…Romans 8:1-2
…I have made you a citizen of heaven…Philippians 3:20
…I will complete to perfection the work I began in you…Philippians 1:6
Now what? Say to yourself, I believe! This is who I am, because God has said so for His Word has proved it. God will not renege on His Word. He can't, it is who He is…"The Word became flesh and dwelt among us, and we saw His glory, glory as of the only begotten from the Father, full of grace and truth." John 1:14
Will you trust God to lead you into believing that His Word is truth?
In so doing, you can trust Him to fulfill His promises.
You can walk unencumbered by doubt that kept you from believing that you matter. You are filled with value and precious because you are loved by God!