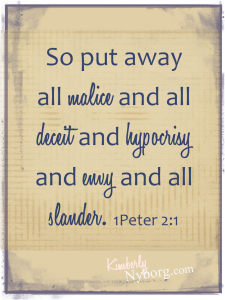 Ever have those conversations that leave you thinking or screaming "What in the world was that all about?" I have and the hardest part of it all is that it was someone I love who railed against me and left me feeling worthless!
Some of you know what I'm talking about here! But when it comes from those we love, ouch, it sure does bite. I was left devastated, giving in to negative thinking for a brief period of time.
I am so grateful that I know the Lord, and that I know His Word. Because of this knowledge, I can combat the lies of the enemy when he comes pointing fingers and scoffing at me. You see I know it isn't that loved one that I am battling, it is the enemy of my soul who wants to see me rendered ineffective.

God's Word really is a healing balm…
"For our struggle is not against flesh and blood, but against the rulers, against the powers, against the world forces of this darkness, against the spiritual forces of wickedness in the heavenly places." Ephesians 6:12 NASB
I am so thankful that the Lord reminded me of this because I let myself get angry! I was devastated and hurt. Not only that but my ministry was also attacked. How could that be?
You see the devil loves when he can pit us against one another and cause us to back-bite and curse one another with that poisonous venom that threatens to kill us emotionally and render us completely useless. He is the ruler of this earth and for a season he longs to make us hate one another.
If Jesus came to show us love so that we could love one another then the devil does just the opposite! He stirs us up with negative thoughts of one another and we kinda get paranoid which is described as causing you to falsely believe that people are trying to harm you. But the verse above is what we have to remember more than anything. And that hurting people hurt people.

So what will you do the next time the accusations come to taunt you and put you on the defense?
Will you retaliate and think of all the bad things that person has done and caused?
Will you get on the band wagon and rally the troupes in hopes of getting others to take your side?
Will you get into a shouting match with that one and tell them just what's on your mind?
When conflict comes our way, we actually have an opportunity to put that ole devil in his place…by not giving in to our emotional reactions, instead, acknowledging the situation for what it is, applying the truth instead of succumbing to the deception.
All these things can help us to see that the person who seems to be against us is actually the enemy who is out to get us. We may just be a target for their pain and frustration. Certainly that doesn't make it right!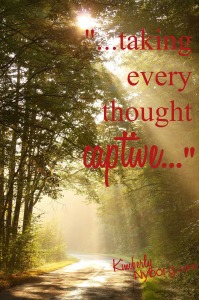 So to take every thought captive means that all the negative thrown at us must be weighed and measured with the Word of God. We may see a few things that could be true about ourselves but seriously, we are not going to drink the poison of our taunters.
Here's what I must remember to do when I fall into a situation like this…pray!
Then, I must forgive.
"From now on, therefore, we regard no one according to the flesh. Even though we once regarded Christ according to the flesh, we regard him thus no longer. Therefore, if anyone is in Christ, he is a new creation. The old has passed away; behold, the new has come. All this is from God, who through Christ reconciled us to himself and gave us the ministry of reconciliation;" 2 Corinthians 5:16-18
It does take time to move beyond circumstances like these. But I know when we extend forgiveness and let go of the pain we have given over to the Lord, He will heal our broken hearts and hopefully restore and reconcile the situation. You may or may not have the relationship you once had but then again maybe you will have a better relationship than ever before?
What do you have to lose?
The pain and recollection every time you run into them, especially if it is a family member.
What do you have to gain?
Peace, peace knowing that God is working even if for right now it doesn't look quite like it!