"But you, Israel, my servant, Jacob, whom I have chosen, the offspring of Abraham, my friend; you whom I took from the ends of the earth, and called from its farthest corners, saying to you, "You are my servant, I have chosen you and not cast you off"; fear not, for I am with you; be not dismayed, for I am your God; I will strengthen you, I will help you, I will uphold you with my righteous right hand."
                                                                                                                     ~ Isaiah 41:8-10 ESV
Praise be to God who allowed us the amazing privilege of being grafted into the lineage of Abraham–God's friend–as well as Isaac and Jacob's.  How?  Simply put by accepting His gift, His one and only Son, Jesus.
For God Himself, sent His only son, walking flesh and bone, to live among us. He would make a way where there was no way because of the sin that took place in the garden so long ago.
Jesus, came to earth as a humble little baby, born of a virgin (young Mary). A story that is told year after year when we celebrate Christmas. This was done purposefully so that you and I could become God's sons and daughters.
Do you realize just how incredible that truth is?  Can you wrap your brain around the fact that the Creator of the universe, our Father, made a way for us to have a personal relationship with Him?  I will honestly say that I don't understand it.  It makes me crazy to think of the expanse of the love that my heavenly Father lavishly poured out for you and me.
This truth certainly exceeds all imagination, all to be restore into a right standing with Him!  How could I ever expect to comprehend this one?
But…by faith, I must. I must simply believe! He saved my life, gave me hope and a chance to walk with purpose in each step, giving me a reason to wake up and live and a reason to love others as He has loved me! 
I like what Francis Chan said in his book Crazy Love, "The point of our life is to point to Him…"
Click To Tweet
You too can have life that is intended to be full, rich and abundant and filled with purpose.  You do know that don't you?  If not, friend, I can't say enough, in an attempt to convince you of this truth. I know, you can't see it, taste it, smell it or see it but…it is yours for the taking.  So here, here is the gift of hope and life, and it's wrapped in love and not just any love but the Father's love.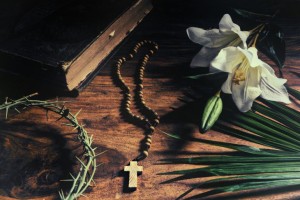 Because Jesus went to the cross for you, you have been gifted with spending an eternity with the Father. I want so much for you to have it, no strings attached! If you are like me, it is just too hard to fathom a cross, a horrific death, where life drained from a broken body as Christ's blood was spilled for you and me. You would think that that would be it, end of the story! But really it was a beginning on the third day, when death was defeated and eternal life in heaven won the victory as Christ arose.
"Behold! I tell you a mystery. We shall not all sleep, but we shall all be changed, in a moment, in the twinkling of an eye, at the last trumpet. For the trumpet will sound, and the dead will be raised imperishable, and we shall be changed." 1 Corinthians 15: 51-52
This is just too exciting! And there's more…
"When the perishable puts on the imperishable, and the mortal puts on immortality, then shall come to pass the saying that is written: "Death is swallowed up in victory." 

O death, where is your victory? O death, where is your sting?" 1 Corinthians 15:54-55
Oh the devil thought it was finished when it had only just begun!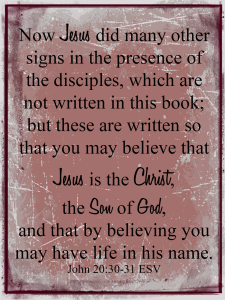 You know, my words really don't do this story justice at all. But the story is told in His Words. Why not start with the book of John. And know that most of all I pray you receive the ultimate gift of life and the blessing of being welcomed into the family of God, friend.  Take it from someone who has been so topsy turvy on the journey to find peace, love and to have joy in the rest of my earthbound journey.
So once again…here it is, yours for the taking…here's to life!