About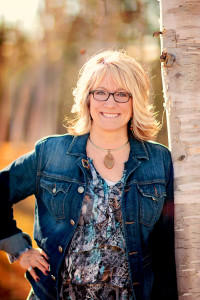 Kimberly thoroughly enjoys encouraging other women by sharing her heart and story at various types of speaking engagements. As a worship leader, worship and music are such a large part of who she is, she will bring a song or two to your audience that will tie in with her story. She is passionate about wanting you to know just how much God loves you! Her desire is to help you understand who you are because of Christ's redeeming work, and for you to walk in the power and abundant life that He has planned for you.
Since 1990 Kimberly has worked at Northern Minnesota's KBHW Christian radio station. She has been guest speaker at retreats, camps, many women's events, as a guest speaker in church and as a representative for Psalm FM Radio station. Since 2004 she has also served as the host of a daily program for Psalm FM. Kimberly was interviewed by Corinne Scott of the Living Stones News of Duluth Minnesota. Her writing career as a blogger began in 2007. She was also a contributing columnist for Living Stones News until it ceased operation in 2012 and she also wrote for Coffee Cup Friends an online blog. She is involved in the Women's ministry in her church and has spoken for various events around the Midwest since 2009. StoneCroft has qualified Kimberly as a speaker for CWC groups in which she has been a featured speaker for their women's ministries for the past two years.
She believes God has created and called her to challenge women of all ages to plunge into the abundant life through her writing, speaking and radio program. In spite of an early life of many wrong choices (A young life entrenched in the 60′s and without a father), Kimberly loves life and is now filled with the joy of the Lord! Her story is a message of hope, hope that comes only when Jesus does an extreme make-over! Her speaking topics come from her personal journey through life. She knows who she is–a daughter of the Most High God–and she will share what it means to have a relationship with her Abba Father. The pruning work that has been done in her life has been used by God to bring her to a closer walk with Him.
Get to know Kimberly's heart through her blog where you may even identify with all that God is teaching her.
You can hear her live, Monday through Friday on her program Vertical Connection 1:00 to 3:00 pm (central) when you listen to Psalm FM radio.
Philippians 3:13-14
Kimberly's Media Clips
Kimberly's Speaking Topics
Here are just a few of her most popular topics. However, she can speak on many subjects and is very willing to work within your conference event theme.
God So Loved…A Christmas Presentation
Jesus, the Light of the World
A message of hope, love and the offer of salvation (specific to Christmas)
Surrendering My Queendom
The Control Factor ~ Surrender = Peace
Do you think you are a control freak? If you are willing to take an honest look you might find that yes, you just might have some of that 'controlling' personality lurking around. If you find that when things don't go the way you planned, well it just may be time to pull the tiara off the head in exchange for peace, peace that only comes from a surrendered life.
The Healing Power of Forgiveness
Freedom from the Debilitating Effects of Unforgiveness
There are way too many people who are struggling with the debilitating effects of unforgiveness. Let's see how this simple phrase, "I forgive you" can literally change your life!
The Making of a Quilt
Design for Relational Living (Great for a Quilting Retreat)
Who would ever think that we could take the process of making a quilt and compare it to making healthy relationships that last!
Make Me a Change Agent
Will you let God use you to change the world?
Who's in your sphere of influence?
Did you know that you have the ability to change the world around you? By the words you speak, the hand you lend and the company you can be…you can make all the difference in the life of another person, for Christ's sake!
 For Such a Time as This
Based on the life of Esther

Your 'Year' of Preparation
Responding in Obedience
A Fulfilled Destiny
How's the Garden of Your Heart?
Pulling the Weeds that Bind
Unforgiveness (of others and self)
Blocked Goals
Generational Sins
Pleasing Man vs God
Lies of the Enemy (Letting God Define Who You Are)
These six strongholds will serve to debilitate you and keep you from living the life you were designed to live. But there is hope…if you are willing to let go and let God have His way in weeding the garden of your heart
Additional workshop topics are available on request.

Check Availability
Use the form below to request Kimberly for your next event. Visit her Events Calendar to see if she is speaking in your area!