Has the bottom fallen out of your world?  Life can be devastating with an unexpected change takes place in our lives!
If you are like me you like to think that you are sort of in control of your environment.  Ha, that's really kind of a joke isn't it!  I'm talking about how quickly things can change then our 'plans' have to also adapt.
I have figured out that when I get too comfortable and appear to have all my ducks in a row that I may as well gear up for the bottom to fall out of my well laid plans.  It only takes a phone call, a misinterpreted conversation, an unanticipated financial expense and wham, what now?
What is it that you are 'planning'? A summer vacation? Visiting family or friends? Taking the kids on a surprise fun trip? It doesn't always go this way but many times, the plans can get thwarted when the unexpected comes. Could be a sudden illness, financial mishap, death of a loved one, disaster…
Sorry friends but this is life! And it is full of surprises! The good and unfortunately the not so good!

So here may be a good place to ask yourself some valid questions…
What is my goal here?
What is important, why am I planning this and for whose benefit?
What is the result I hope to see from the experience?
What is my plan "B"?
Some valid questions when stress reveals itself in your world!
The following verse hit me one time reminding me first and foremost of Who is in control and of placing my focus on the One who is in control when things begin to slip downward, from Isaiah 59:19b (NKJ)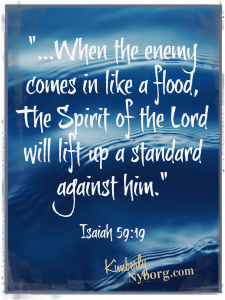 The enemy of our souls really loves to make our lives confusing and frustrating because when we find ourselves in an uncertain mess we can tend to give up and forget our purpose.
However when I read that verse, there is hope,  and it is also imperative!  You must remember to act on what God has done when the enemy rears his ugly head.  And that involves looking at the truth and the verse in its context!  I have felt hopeless before and it isn't fun and undoubtedly I will feel that way again.  Look at what is said in the verses before the one above beginning at :14
"14 Justice is turned back, And righteousness stands afar off; For truth is fallen in the street, And equity cannot enter. 15 So truth fails, And he who departs from evil makes himself a prey. Then the Lord saw it, and it displeased Him That there was no justice. 16 He saw that there was no man, And wondered that there was no intercessor;"
Justice and righteousness are not to be found, truth and equity are forbidden.  Without truth, he who walks away from evil is prayed upon.  But…God saw this and He was moved to wonder where is the justice in this situation and where is the intercessor…God Himself would raise the standard by His own arm and righteousness as a breastplate and helmet.  God is not threatened by the enemy who has infiltrated the land.
Therefore His own arm brought salvation for Him; And His own righteousness, it sustained Him. 17 For He put on righteousness as a breastplate, And a helmet of salvation on His head; He put on the garments of vengeance for clothing, And was clad with zeal as a cloak. 18 According to their deeds, accordingly He will repay, Fury to His adversaries, Recompense to His enemies; The coastlands He will fully repay.
The first part of verse 19 states:
"So they shall fear the name of the LORD from the west, and his glory from the rising of the sun;"
What is it that has you in a stronghold, what has stolen your peace and joy?  The truth of the matter is that God is for you and not against you.  And please catch this truth…God's intentions toward you are always only for your good, always! You are His and He is ever mindful of everything you go through, good and not so good. Click To Tweet
You may have let your circumstance overwhelm you as the enemy flooded your surrounding with things that hurt and caused pain and doubt.  Or by bringing you in a situation that you simply could no longer control. Check out the rest of this portion of Isaiah 59:
"And as for me, this is my covenant with them," says the LORD: "My Spirit that is upon you, and my words that I have put in your mouth, shall not depart out of your mouth, or out of the mouth of your offspring, or out of the mouth of your children's offspring," says the LORD, "from this time forth and forevermore."
Will you take heart by reading this truth? Will you not see that you have an advocate who wants to fill you with hope and peace?
Today in your messy state, look at the truth and simply agree with what is spoken by the One who loves you and only wants His best for you!
Lord, today I choose to focus on truth, the truth that you love me with an everlasting love. I am covered by the blood of the Lamb of God because He paid my ransom being the spotless sacrifice You required.  And I know Your Spirit is within me and I am covered by the full armor of God.  Lead me forth from this darkness that I may walk in Your light, making a difference for those around me and who may also be in the midst of a darkened place. I refuse to give up hope in Jesus' name, Amen!
You may also like to read Blocked Goals.