Visiting over at #the Loft today with a wonderful bunch of girls who love God!
When I was a new believer in Christ, I sure didn't think that God could be very pleased with me. After all I had a jaded past full of regrets and loathsome sins that the enemy of my soul used to lord over me and make me feel unlovable, unforgiveable and fairly weighted down by my burden of regret!
I began to read through the Psalms and especially the ones written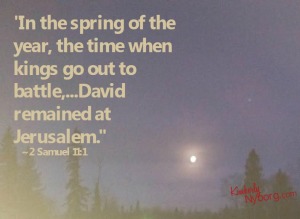 by King David. Oh my, to learn that he was once a youth who God Himself had pegged as a man after His very own heart! I was touched to learn as well that in his seeking of God that he was also a worshiper and really maybe that is a given when you are a seeker of God? Those who run after God and draw near to His heart worship Him!
So the Psalms intrigued me and this man David who became a king was interesting to observe. And then I watched him fall…big time, as he slipped into his affair with Bathsheba. Not only was he now an adulterer but he became a murderer devising the plan to kill off Uriah, Bathsheba's husband. How did this man after God's own heart fall so hard?
Interestingly enough, as I struggled with forgiving myself in light of being forgiven by the Lord I saw God's love and grace for this fallen king poured out upon David as he repented, acknowledging his sin, and then he moved forward. God continued to bless his kingdom.
Now I am in no way saying I am a David but…the biggy is that David was loved by God and forgiven. This gave me hope to see that I could be forgiven of my sins and that now as His child I walk and continue on as a saint who sometimes sins (Neil Anderson, Freedom in Christ Ministries).
In many ways David is a hero to me, and his life–although not the happiest ending–was still used by God to usher in the Prince of Peace. God knew David's heart and he knows mine. Oh I am grateful to know that although I sometimes struggle, God will never dispose of me because He knows my heart and how much I love Him!
Proverbs 24:16
For a righteous man falls seven times, and rises again, But the wicked stumble in time of calamity.